Find Fast Ford Service with Quick Lane® from Duval Ford in Jacksonville, Serving Macclenny
Your Ford vehicle was designed to go the distance, and with regular service and timely repairs, you can expect many years and miles of reliable driving enjoyment. Routine maintenance is essential to getting the most out of your Ford Escape, Explorer, F-150, or Mustang. But if you have a busy schedule, it's not always easy to make space on your calendar for a long service appointment. Fortunately, Jacksonville-area drivers have access to Quick Lane® at Duval Ford.
At Duval Ford, we're all about convenience, and part of that entails helping you get the maintenance your car requires without taking too much time out of your day. Our highly trained service experts have the specialized experience, equipment, and genuine Ford parts to ensure your SUV, Truck, or Car can continue to operate at its best for as long as possible.
Ford Quick Lane® Services
We service all Ford vehicles- including Diesel trucks! Some of our most popular services include:
Tire rotation and balance
Oil and filter change
Brake inspection and replacement
Battery testing and installation
Air conditioner repair
Hose and belt inspection
In, Out, and On Your Way
Some of the most vital preventive maintenance items are also the quickest to perform, and Ford Quick Lane® allows you to get many of them without needing to schedule an appointment. So, just visit us during normal business items to take care of common services like:
Oil Changes: Protect and ensure optimal performance and efficiency with premium-quality Motorcraft® oil that helps mitigate corrosion and contaminants. Ford recommends changing your oil every 5,000 to 7,500 miles, depending on operating conditions and driving habits.


Tire Rotations: Ensure even wear and maximum tire life by regularly swapping the front and back tires. The recommended interval for tire rotation is similar to that of oil changes, and these services can be performed at the same time.


Battery Testing: Despite their difficult task, quality car batteries are pretty resilient and can last up to five years or more. However, after the three-year point, it's recommended to have your battery tested once or twice annually to verify its capacity and condition.


Brake Inspection: Brake pad lifespan can vary widely, so there's no predetermined interval for their replacement. Irregular or rapid wearing can also indicate other non-brake-related issues, so it's why it's important to have them checked out regularly. Duval Ford Quick Lane® technicians can inspect your pads whenever you're in for service and swap them out quickly if necessary.
Other Quick Lane® services include belt and hose inspections, tire balance, filter changes, air conditioner checks, cooling system and fluid inspection, and lamp bulb replacement.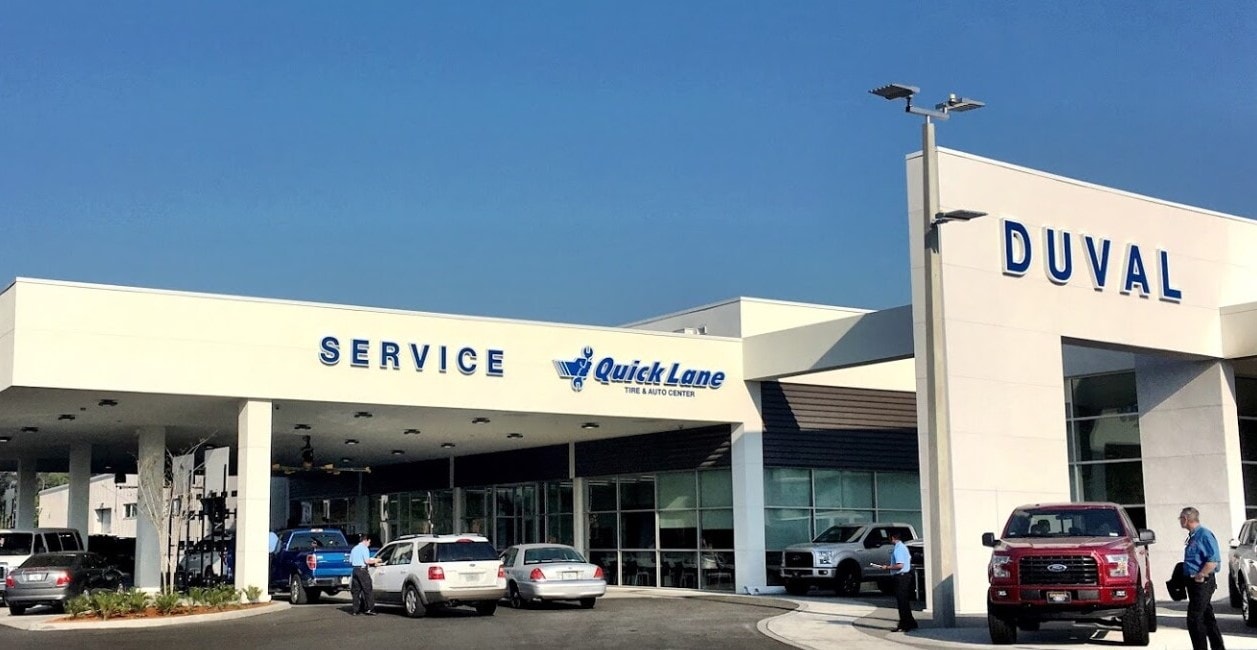 Contact Duval Ford
If you have any questions about Quick Lane® service or the recommended maintenance for your specific Ford model, please feel free to contact Duval Ford at your convenience. It will be our pleasure to assist you.