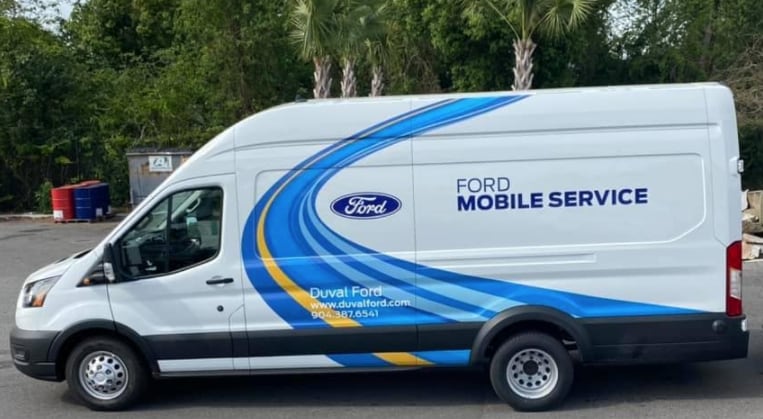 At Duval Ford, we strive daily to find ways to better serve our customers and make their Ford experience more enjoyable and convenient. We've implemented services like at-home test drives, virtual walkarounds, online shopping tools, and home delivery, allowing more car buyers to complete the process without taking too much time out of their day. And since our commitment extends beyond the final sale, we introduced pick-up and drop-off service for maintenance and repair visits.
Ford Mobile Service: Our Techs Come to You
Your Ford was built to go the distance. And with regular maintenance and timely repairs, you can count on it to serve for years to come. Certain vehicle components like engine oil and tires require more frequent service to ensure safe and proper operation. While maintaining these parts is vital, it doesn't require heavy equipment and machinery to perform. With Mobile Service from Duval Ford, if you live within ~25 miles of our Jacksonville dealership, we can send technicians to you to complete the work on-site. All necessary equipment for the most common maintenance items can fit in our service vans, including axle stands and a 2.5-ton jack.
Our vans are equipped for light service items like oil changes, tire service, battery testing and swaps, software updates, recall work, and more. Ford Mobile Service allows you to get common maintenance items addressed in a fraction of the time it takes to bring your vehicle to our dealership and back. However, if there's an issue that can't be serviced by our mobile technicians, we can still provide pick-up and drop-off service.
For more information about Duval Ford Mobile Service and to schedule an appointment, please contact our service department at 888-371-2688. It will be our pleasure to assist you.