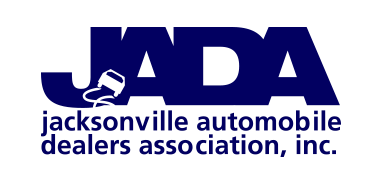 Jacksonville Automobile Dealers Association Donating 2500 Meals to Jacksonville Area Local Heroes 
JACKSONVILLE, Fla - 04/23/2020 - The Jacksonville Automobile Dealers Association (JADA) has contracted a local meal preparation company, Lean Impact Nutrition, to prepare and deliver 2,500 meals to local frontline heroes dealing with the COVID19 pandemic. 
Made up of 62 dealerships, and overseen by a Board of Directors, the JADA has a rich history of giving back over the past 20 yearsto the amount of $2,200,000. JADA traditionally focuses on children and family charities, but when the COVID19 pandemic hit, the board members knew it was time to show some appreciation to those on the front line. 
    "There are thousands of local frontline heroes in our community, dealing with COVID19 patients daily and putting themselves at risk for our community," said JADA President Phil Porter. "Providing mealsfor these local heroes is our way of saying Thank You for their sacrifice and commitment." 
The meal deliveries kick off this Friday, April 24, 2020, with a noon delivery of 250 meals at Mayo Clinic in Florida. These 250 meals will serve two shifts of frontline workers and support staff. The meal deliveries will continue with 500 meals delivered to Wolfson Children's Hospital, Baptist Medical Center Jacksonville, and Baptist Medical Center South early next week. JADA continues to make plans to reach out to other hospital administrators, local police substations, and first responders to complete the mission of delivering 2500 meals. JADA Board Members will help deliver the meals at the various locations. 
JADA is excited to collaborate with Lean Impact Nutrition owner Zach Elkins. Elkins has already made it a personal mission to donate meals to Clay County hospitals over the past few weeks. "We wanted to give meals to people on the front line, our critical emergency room staff and maybe make their shift a little better by providing them a healthy meal," explained Elkins. 
ABOUT JADA 
The Jacksonville Automobile Dealers Association Inc. (JADA) is made up of 62 franchise new car & truck member dealers located in Clay, Duval, Nassau and St. Johns Counties proudly support numerous children and family charities in Northeast Florida. JADA takes tremendous pride in giving back to our community, having donated over $2,200,000 to local charities and community service programs on the First Coast over the past 20 years of giving. Franchised new car dealers remain a major source and generator of tax revenue, and a principal contributor of both time and money to local charities and civic organizations. Local Jacksonville Automobile Dealers employ over 5,000 of your friends & neighbors. Learn more about JADA at www.jadaonline.com.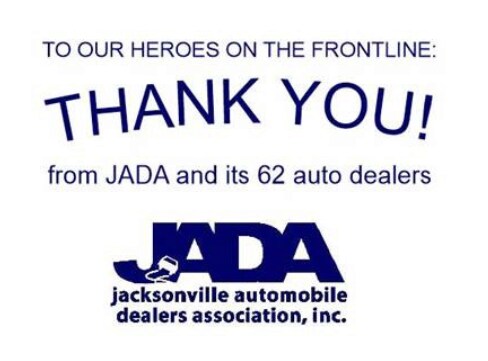 Press Contact: Linda Wester JADA Linda@jadaonline.com / 904-215-9854
Hours
Monday

8:30am-8pm

Tuesday

8:30am-8pm

Wednesday

8:30am-8pm

Thursday

8:30am-8pm

Friday

8:30am-8pm

Saturday

8:30am-8pm

Sunday

Closed